The Chandler Affairs
Veronica Irene Chandler is a private investigator living in Calgary who likes to think of herself as a normal Canadian woman.
Unfortunately for Veronica, her cases are anything but normal. A possibly cheating husband leads her to a woman who claims to be a demon, or possibly two. There are coins that must have cost billions of dollars to make that may control men's minds. An international secret society that wants her as a member. And that's for starters.
Veronica doesn't have any powers, and doesn't believe in magic, but things keep happening. Things that may or may not be magic.
Or delusions.
---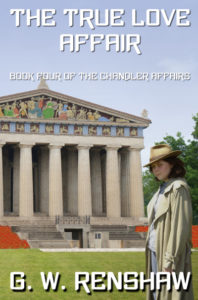 The True Love Affair – Book 4 of The Chandler Affairs
After a nice trip to Mexico to find a kidnapped woman, I now have a new client. One I don't trust. Unfortunately for me, his offer is one I can't refuse. Someone is on a worldwide killing spree, and the only person who can be trusted to bring the murderer to justice is—me. I hate when that happens.
The last time demons were involved in a case I had to decide the fate of the world. Now I have to move heaven and hell to stop the killer before the spree becomes a global catastrophe.
Humanity's survival depends on my expertise with romantic relationships. We are so screwed.
Print edition available on Amazon
Available soon as an e-book from online booksellers.
---
The Kalevala Affair – Book 3 of The Chandler Affairs
Being shot at gives me a great reason to take a job out of the country. Wealthy collectors want me to search for a lost historical artifact in London and are willing to pay me suspiciously well.
I should have known there was a catch.
Everybody is after this thing. I get to dodge bullets, run all over Europe, steal from terrorists, and decide the fate of the world. Again.
At least the volcanoes are nice this time of year.
Available in print from Amazon, and other online booksellers.
---
The Prince and the Puppet Affair – Book 2 of The Chandler Affairs
I'm doing well, but life isn't as good for Alyssa Blakeway. She suspects that her husband is having an affair. It's a standard sneak and peek assignment. What could go wrong?
How about a hit and run, a missing necklace, the worst covert operation in history, the Vatican, Witches, Freemasons, Kali getting in the way, and hot but problematic men. Oh, and an old acquaintance who drops in for pizza and body disposal.
At least I made a new friend and I'm still alive. For now.
Available in print from Amazon, and other online booksellers.
Available as an E-book for the Kindle from Amazon.
---
The Stable Vices Affair – Book 1 of The Chandler Affairs
After years of effort, I'm finally a P.I., and I get my first and second clients on the same day. Both cases should be simple; a little surveillance, a few pictures, and there's money in my pocket. Life is good.
Too bad the easy money is complicated by a demonic dwarf or two, vanishing furniture, impossible coins, a worldwide secret organization, annoying telephones, a kinky pony show, and the possibility of losing my soul.
It's almost like something paranormal is going on, but that kind of thing doesn't happen in the real world. Certainly not in Calgary. Right?
Available in print from Amazon, and other online booksellers.
Available as an E-book for the Kindle from Amazon.
---
Stand-alone Works
Odd Thoughts – A Collection of Speculative Fiction
Odd Thoughts is a collection of seven short stories. They belong to a variety of genres, and deal with insane emergency personnel, vindictive childhood friends, aliens, repentant serial killers, and creepy little girls.
The common thread running through all the stories is that somebody, somewhere, is having Odd Thoughts.
Available in print from Amazon.
Available as an e-book from Smashwords.
---
Hic Sunt Dracones
Professor George Herbert Endeavour certainly is, by his own admission, Victorian England's greatest scientist. Indeed, he might humbly admit that he is the world's greatest scientist if pressed. Being in the same room, for example.
In Hic Sunt Dracones: Being a True Account of the Rescue of Professor George Herbert Endeavour from a Curious Misadventure, the Professor has gone to Hungary, determined to capture a newly reported predator in the Carpathian Mountains. But who is hunting whom? And what fearless adventurers shall save him?
Hic Sunt Dracones is the first of a series of novelettes about the Professor.
---
Vacation
The Spring 2013 edition of On Spec Magazine carried my short story Vacation.
Harlan Smith is an award-winning science fiction author on his way to Earth for the Worlds Science Fiction Convention. Unfortunately for his expectation of winning another Hugo, the starship explodes.
What follows is an adventure involving snakes, onions, goldfish, and unicorns.
Oh yes, and boogers.